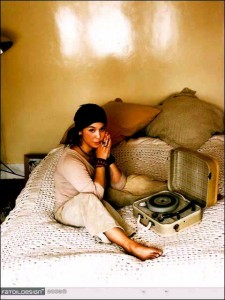 This LDN, Brooklyn, Sweden, Berlin based MC is the exception that could change the rules. As a member of London's underground supergroup One Self (Ninja Tune), Yarah rips the microphone apart and kills MCs and stereos. She has a versatile style, and slides effortlessly between soulful jazz-inflected lines and hard hitting rhymes with tonal movements and meter shifts complementing an aphrodisiac voice that was born to be broadcast.
As well as being the front woman for The Soundcatcher Soundsystem, the founder of the One Self movement, and a one woman powerhouse with a force to be recockened with. She owns her own record label, clothing label, and studio, all under the name Mothergrain(C.O.P)
She is neither a sex kitten wannabe nor a puppet for a behind the scenes machine, she displays defiant intelligence, acute political awareness and a world-traveler's sense of cosmic consciousness while exuding the streetwise cool of the neighbourhood girl we all secretly wanna kick it with…
The young Miss B performs with a sense of heartfelt urgency, conviction, and youthful energy that captivates even the most listless crowd. With more than 4 languages under her belt and as a child of two freedom fighters, she is a true renaissance woman with a purpose. While others are content with polluting the airwaves, Yarah Bravo would rather challenge you with breath of fresh air. The big bosses have been knocking on her door for a minute, but back then she wasn't ready.
Now as this little B-girl breaks out on her own…her fan base grows, and it is growing fast. It seems like this charismatic and openly honest MC might just be the one to change the game.
LMNZ: Yeah me n Yarah been kickin' it for a while now. This description pretty much just needs a "word"! 😉 Thanks for being part of this project homegirl! You're super dope!!